Drive app revenue with Motrixi
You have data. That's a good thing. Now, you need a partner to help you understand it— and to monetize it.
Transparency and consent to data collection are priorities for us. All of our data is permission-based, ethically sourced, and compliant.
Motrixi connects brands, agencies, and data providers to targeted audiences.
1st party data: mobile, online, offline

Compliance and Governance: GDPR, Google and Apple Store

100% Opt-In

Deterministic

Attribution
SSP, DSP and DMPs

Data Partners 

App Developers & Publishers

Agencies
Step 1
Join our mobile publisher network
Then, your users opt-in to share their data with us, allowing you to generate revenue.
Step 2
We add offline and online data points
This allows us to build a complete profile of your users:
Demographic

Psychographic

Firmographic

Purchase History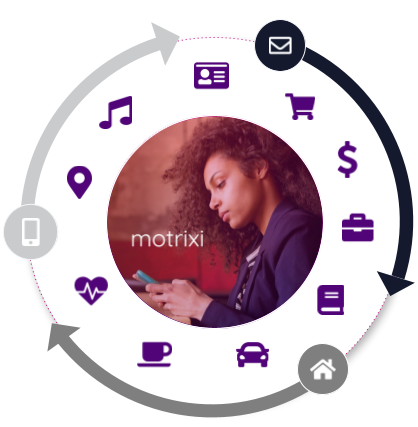 Step 3
Advertisers, partners, and agencies target the audiences we create from your users' opt-in data.

Step 4
You generate revenue
when advertisers target these audiences. There is no interruption to users' experience with your app, and your revenue potential increases as the audience profiles we create become richer.